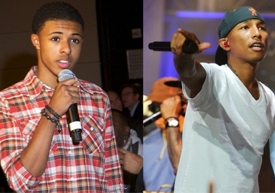 via BET.com
Being the heir to hip-hop royalty that he is, Diggy isn't necessarily in need of any career role models. However, that didn't stop the 16 year-old rapper from seeking out career guidance from one of today's most influential stars, Pharrell Williams. At iMentor's annual benefit Wednesday evening [October 26], Diggy shared some of the things he's learned from the Grammy Award winning producer.
"One of my mentors is Pharrell Williams. He has taught me that a lot of times, younger people, when they are in a predicament, say that they have nothing," Diggy told attendees. "He told me that you can make something out of what you think is nothing. You just have to believe in you. He has taught me to be me."
The event, held at New York City's Mandarin Oriental, celebrated the work that the philanthropic organization has been doing to pair local underserved high school students with positive mentors. iMentor theorizes that mentorships will help program participants to succeed in their colleges and careers. Representatives like Diggy serve as examples of that.
For more visit iMentor.org
(Photos: iMentor; Stephen Lovekin/Getty Images)
[Edited By Moderator]